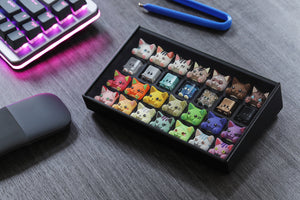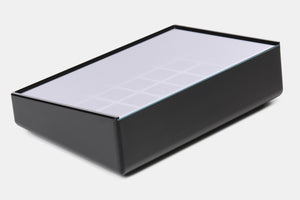 GROUP BUY
This is the second group buy for our Frontier Aluminum Artisan Display Case. Production will begin once we reach a certain amount of people who join the group buy. If we do not reach that number then it won't go into production and everyone who joined the group buy will be refunded. The estimated ship date and further details will be provided on discord and our Instagram.
This display case has been manufactured before, here's a preview: https://www.instagram.com/reel/Chxj13ih5Nn/?igshid=YmMyMTA2M2Y=
DESCRIPTION
There's no such thing as too many artisan keycaps. Unfortunately, even the biggest keyboards only have so many open slots. When your collection outgrows your board, don't relegate the extras to your drawers. Show them off in style on your desk with the Frontier Aluminum Artisan Display Case. Weighing at 1.6 pounds and made from black anodized aluminum, this sleek and sturdy case is shaped at a gradual angle to display a wealth of hard-earned artisan keycaps for all eyes to see. Inside, it features 28 precisely shaped, 0.75-inch-deep slots arranged in 7x4. Great for securely holding 1u artisan keycaps of all shapes and sizes, these slots are covered with a well-fitted, sliding glass panel for easy, luxury viewing and dust protection. On the bottom, a shiny brass badge highlights the premium feel of the case while adding a small addition of heft. Each Frontier case also comes with rubber bump-on feet ensuring it to sit on any desktop without sliding.
SPECS
Artisan display case
Material: Black anodized aluminum
Removable glass panel
Rubber bump-on feet
Brass badge
28 slots (7x4)
Slot size: 1u
Slot depth: 0.75 in (1.9 cm)
Weight: 1.6 lb (736 g)
Dimensions: 3.9 x 6.4 x 0.9 - 1.6 in (9.8 x 16.3 x 2.3 - 4 cm)